Product Description
LiteMark Reflective Letters and Numbers Decal/Sticker. Many Sizes and Colors to choose from. Arial font.
Excellent for vehicle marking. Apply serial numbers to your entire fleet quickly and easily. Weather proof with 7 year durability.
Enter characters in the text field above. Separate groups of letters/numbers with spaces. Groups will arrive bound to transfer tape for easy application.
Clear, solvent-based, permanent adhesive
Meets ASTM D 4956 specifications for Type I, Class 1 retroreflective sheeting
Surfaces to which the material will be applied must be cleaned thoroughly of dust, grease or any contaminants. Freshly lacquered or painted surfaces should be allowed to stand for at least three weeks after complete curing. The compatibility of selected lacquers and paints should be tested by the end-user prior to use.
How To Apply A Small Sticker or Decal
Review the application guide and make sure the application surface is clean and completely dry before applying the decal.
Step 1
Clean the area thoroughly with rubbing alcohol or soap and water. Do not use Windex or similar products because it will leave a residue behind that will prevent the sticker from adhering well.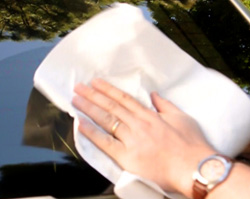 Step 2
Prepare the sticker for application by firmly rubbing a squeegee or credit card across the clear transfer tape. This removes any air bubbles that may have formed and makes the sticker cling to the transfer tape.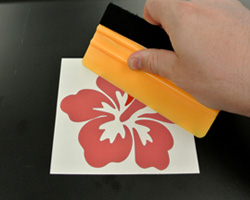 Step 3
Peel the white paper backing off the sticker. If the sticker clings to the backing, slowly replace the paper backing and repeat Step 2.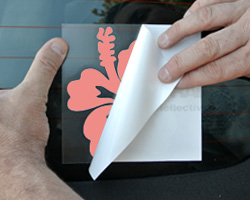 Step 4
Slowly lower the sticker onto the surface and rub it in place firmly with a squeegee or credit card. For best results, wait 24 hours before moving to the next step.
Step 5
Slowly peel the clear transfer tape off at an angle. Be careful not to pull the sticker off the surface. If sticker pulls away from the surface repeat Step 4.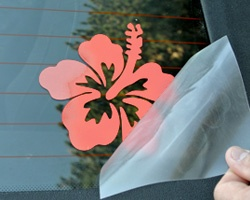 *Use a pin to poke any air bubbles in the center and push the air out through the hole.
*For best results do not apply a sticker in extreme hot or cold temperatures.
Thickness

5 mils,
The LiteMark Reflective Letters and Numbers Decal Pack is a set of reflective decals that can be used to mark and label a variety of items.
These decals are made of high-quality, reflective vinyl material that ensures maximum visibility even in low-light conditions.
The pack includes letters A to Z and numbers 0 to 9, as well as additional symbols such as a dollar sign and exclamation point. The decals are easy to apply, thanks to their adhesive backing, and are suitable for use on a variety of surfaces, including metal, plastic, and glass.
The pack contains a total of 276 decals, making it ideal for a wide range of labeling and marking applications, such as equipment identification, safety signage, and more.
Custom Field
Product Reviews